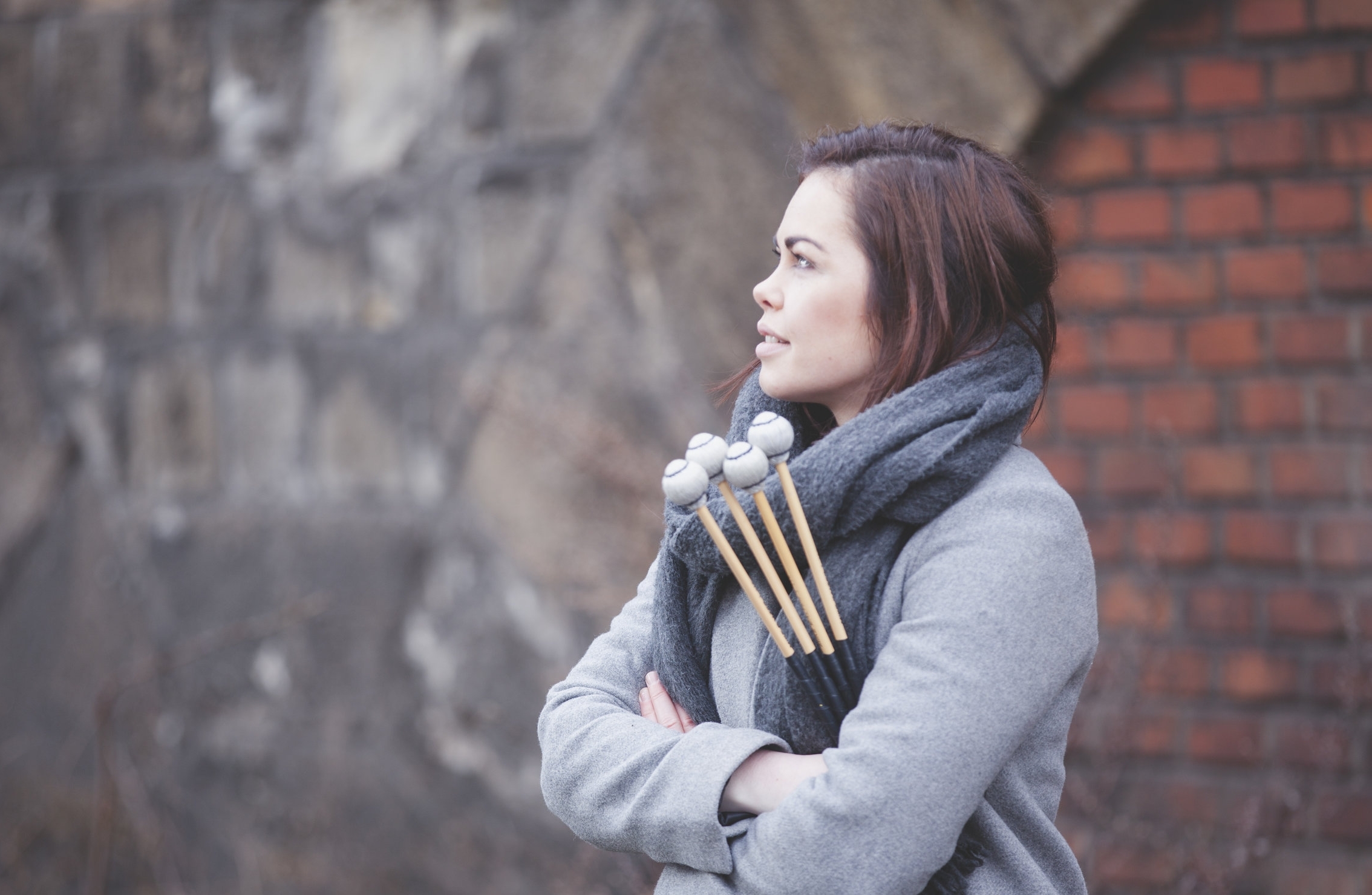 Emma King is a London based female percussionist with experience in Folk, Pop, Rock, Musical Theatre and Classical genres.
Since completing a Bachelors Degree at the Guildhall School of Music and Drama, Emma has been making her name well known on the UK music scene as a Cajónero with performances at the Glasgow and London Drum Show in 2016.
Throughout her career Emma has performed in masterclasses with Tom Greenleaves (Gewandhaus Orchestra Leipzig) Chris Lamb (New York Philharmonic) and soloist Colin Currie.
Within the pop industry Emma has worked with X Factor star Gamu Nhengu, Ralph Salmins (Dionne Warwick, Diana Ross, Paloma Faith, Robbie Williams), Andy Gangadeen (The Spice Girls, Chase & Status) and gospel producer Nicky Brown.
Emma joined the West End/Broadway Percussion show STOMP in 2014 and has toured extensively throughout Europe, Asia and South America with the company.
Theatre credits also include depping on The National Theatre of Scotland's production of 'Our Ladies of Perpetual Succour', opening the 2018 Adelaide Festival with LFO and the Steven Sater London Showcase.
Television appearances include Live at the London Palladium on ITV and The Late Late Show on RTÉ. Corporate events include the Goldwell Colourzoom Gala Showcase 2017 in Barcelona, Directed and Choreographed by Kevan Allen.
Within the studio Emma's work as a Body Percussion artist can be found on the 'Secret Life of Humans' soundtrack. The play inspired by Yuval Harari's international bestseller, Sapiens: A Brief History of Humankind which had a sold out run at The New Diorama,London and in 59e59, New York in 2018.
In October 2018 Emma performed in the world premiere and Irish National tour of a new opera production by John O'Brien, inspired by Oscar Wilde's timeless story, 'The Nightingale and the Rose'.
In the Spring of 2019 Emma will begin rehearsals with Joss Arnott Dance Company as the Percussionist for their new Production 'Pulse!'. The show will premiere in May followed by performances at several UK Dance and Music Festivals in Summer 2019.
Emma is proudly endorsed by Schlagwerk Percussion.
Secret voice of HUmans - Sound Track
Body Percussion Artist
PROJECTS
Performed entirely around a unique 3.5m high percussion wheel engineered by Rolls-Royce, this adrenaline-fuelled dance and live music production is a combination of rhythmical flare and heart-in-mouth choreography for all the family to enjoy. For their first ever outdoor production, Joss Arnott Dance partners with a world class design team as a dancer and drummer explore the interplay between movement and music.
A London based folk collective formed in 2011 playing music from all over the world with infectious energy, skill and enthusiasm. The Tinkers' music draws heavily on rich history folk traditions of the British Isles, Europe and beyond. Creative and daring arrangements of traditional reels and jigs are interspersed with songs of hardship, love and drinking, all with messages as poignant in today's age as when the words were first sung. The band aren't afraid to throw in a few curve balls: expect to hear tuba driven dub-step breakdowns, funk riffs and the kind of rich textures only available to those bands with string, wind and brass sections.
STOMP is the West End and Broadway phenomenon that unites dance, comedy and music into a theatrical whirlwind you'll never forget. Creators and co-directors Luke Cresswell and Steve McNicholas have created a theatrical experience like no other – playful, thrilling and exploding with energy. STOMP has hammered out a universal theatrical language of rhythm, movement, comedy and dance, bringing everyday objects like Zippo lighters, plastic bags, bin lids – even the kitchen sink – to life along the way. It's the event that showed the globe that even the most ordinary objects can do extraordinary things – in the right hands.
From the creators of STOMP, the Lost and Found Orchestra transforms everyday objects into a plethora of invented instruments. LFO recreates every section of a symphony orchestra, using musical saws, bottles, whirly toys and traffic cones and out of chaos is formed an orchestra. With a mix of STOMP performers, classical musicians, physical comedians and aerialists, LFO's performance climaxes with the human voice being added to the mix: what begins with simple melodies plucked, blown, thumped and brushed into life, ends in a complex symphonic and choral celebration.
GIGS